News
INTERNATIONAL ONLINE IT-SCHOOL NEWS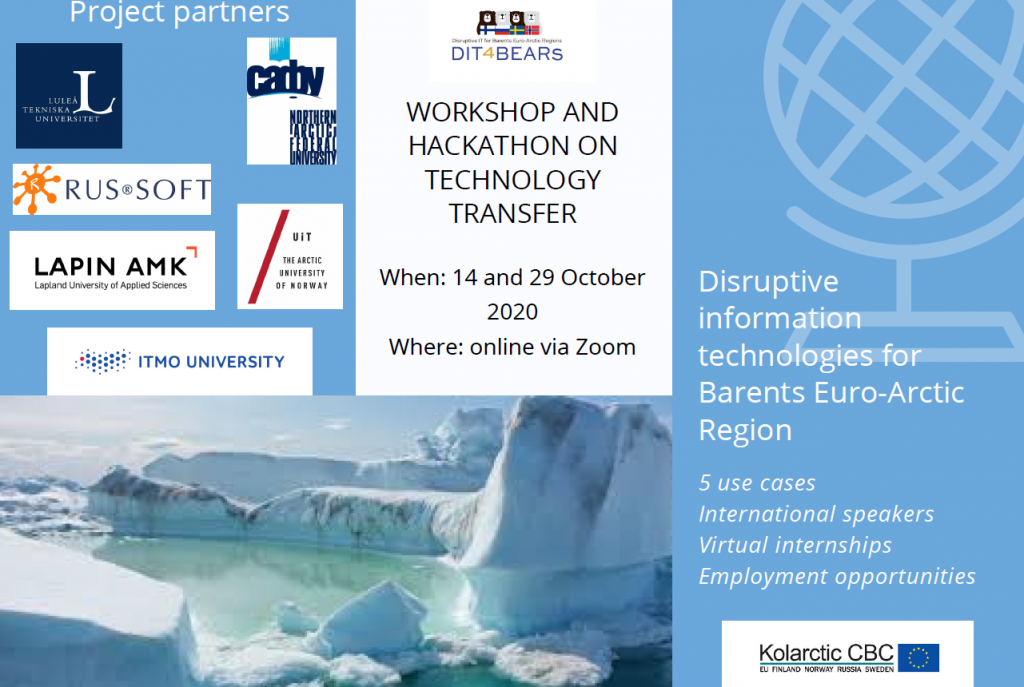 Disruptive Information Technologies to give impetus to science-to-business partnership models
DIT4BEARS: Disruptive information technologies for Barents Euro-Arctic Region, an international project under the EU-Russia CBC Program KOLARCTIC, has recently had its members in Sweden, Finland, Norway and Russia (St. Petersburg and Arkhangelsk) getting together to plan for the project activities until 2021.
At the project meeting, NArFU has presented the program of the online International IT School, scheduled for October 12-16, 2020. The program is diverse and features a series of lectures by leading experts and scientists based in Spain, China, Germany and Russia. Intended for Russian and international students, the online school has one of its days, October 14, dedicated to international case studies exploring the experience of businesses and research teams with achieving the innovation-driven solutions in the areas of DIT4BEARs. On Arkhangelsk's side, the online school is partnered by non-profit Agency for Regional Development and local businesses. They will contribute to the event by presenting, at the Hackathon on October 29, the regional company cases. The Hackathon is intended as a follow-up on IT School and will have a number of international teams competing while working on company cases. The winning team will be offered virtual internship places in the companies based in project partners' countries.
Considering its benefits for Arkhangelsk Region, DIT4BEARS represents a venue to generate some extra capacity for business integration, application of the cutting-edge technologies available domestically and abroad, and strengthening of science-to-business partnership model.
Department of International Cooperation
Partners